Haunted Barn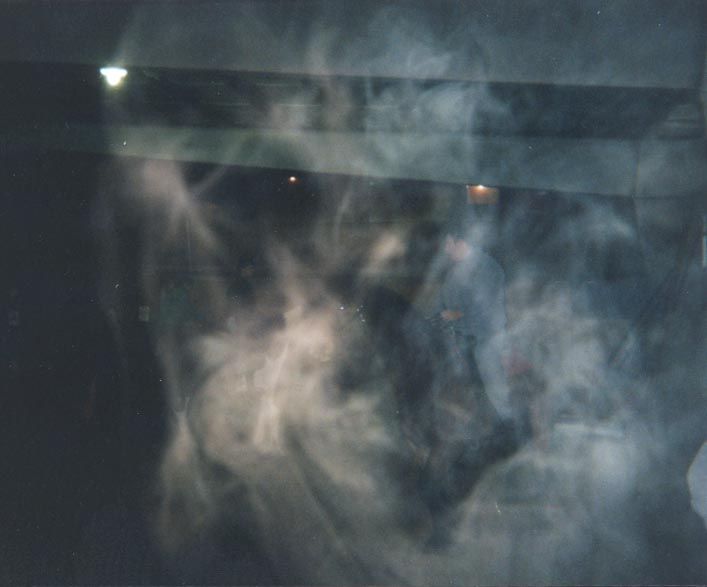 Mist photo taken by S.P.E.C.T.E.R. at a local riding arena during a rider training lesson. Horses would spook wildly and throw their riders.
Animals Sensing Something?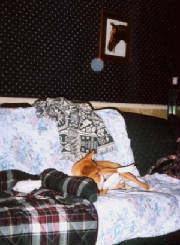 The photo above, is of our Basenji. She will often look up and rub her eyes as if watching something.
We always had a disposable camera near by and would capture a single orb around her when she started acting funny.
Photo submitted by a client
shortly after our initial
investigation. She was taking photo's of her children and set the camera down on a childrens play table. She heard the camera go off and thought one of the kids picked it up. To her surprise the camera was in the same spot but this photo was taken by itself....She also made it clear to me, that there is NO strap on the camera?
Notice how the Entity comes through the door, curves around
the childs shoulder then out the same doorway?...
She has taken many photos since they were born with large misty balls and orbs around and behind the children.
Rural School House
A neighbour gave me these copys from their friends rural school house.Since they have converted it to a home,they can often hear children singing in the house.
They had left their camera sitting on a shelf. These picture were on the negatives between some other photos.
Just another example of entities taking their own photographs and using the energy around them.
____________________________
A story about an orb sent in
by a visitor to this site.
It was watched for quite some time. Note: I personally have also followed orbs with the naked eye...
I have displayed the entire unedited article as it was submitted to us.
Best of the WEB - GHOST VIDEOS
WARNING - Not for the Faint of Heart!